The eCourts Mission Mode Project is a national eGovernance project for Information and Communication Technology (ICT) enablement of district & subordinate courts of the country. The objective of the project is to provide designated services to litigants, lawyers and the judiciary through ICT enablement of courts.
The Project was conceptualized based on 'The National Policy and Action Plan for Implementation of Information and Communication Technology in the Indian Judiciary' of the eCommittee of the Supreme Court of India. It was launched with the intent of improving access to justice using technology. The Cabinet Committee on Economic Affairs (CCEA) approved the project originally in February 2007, approved coverage of additional courts in September 2010 and extended duration of the Project in 2014. 13,672 Court sites were computerized in Phase I of eCourts.
The Government approved Phase II of the eCourts Mission Mode Project in its meeting held on 16th July, 2015. The project was approved for the duration of four years or until the project is completed, whichever would be later, at the cost of Rs.1670 crore out of which a sum of Rs. 1610.80 crore has been released by the Government.
Under this ambitious project, 18,735 District & Subordinate courts have been computerised so far.
Achievements of eCourts Project Phase-II:
 (a)     Computerization and WAN connectivity: 18,735 courts have been computerized with software interoperability.  To reduce connectivity divide, Wide Area Network (WAN) project was given special impetus.  2954 sites (98%) have been commissioned with 10 Mbps to 100 Mbps bandwidth speed and Technically Not Feasible (TNF) sides reduced from 58 in 2019 to 11 in 2021.  In the COVID-19 scenario, this WAN connectivity enabled better Video Conferencing facilities and improved access to justice.
(b)     COVID Management Software Patch for CIS: To ensure smooth functioning of Courts even during COVID-19 pandemic, a new software patch has been developed to help in smart scheduling of cases.  Courts can now hear urgent cases in scheduled time slots and accommodate the convenience of lawyers to prevent conflicting engagements and has proved to be effective in managing overcrowding in court premises.
(c)      The National Judicial Data Grid (NJDG):  Case Information Software using Free and Open Source Software has been developed to automate the Court Registry.  This has led to NJDG for judicial data transmission.  NJDG is providing world's largest real time online database of more than 19.16 crore cases of various Courts and 15.15 crore orders/judgments. Three new features have been added: (i) Open API to Central and State Government to improve monitoring and compliance of pending cases and (ii) 'Reasons for Delay' column has been added to track delays caused in adjudication,(iii) Land Records Data of 10 States have been linked with NJDG to identify disputed lands.
(d)      Virtual Courts: 12 Virtual Courts have been set up in 9 States/UTs which have tried 86 lakh petty traffic offence cases and collected over Rs.175.35 crore online fines.  Delhi High Courts has set up 34 Digital Courts to deal with NI Act related cheque bounce cases.
(e)      Video Conferencing: Hearing through Video Conferencing (VC) emerged as the mainstay of Courts during the COVID period.  India emerged as a global leader with District and High Courts virtually hearing nearly 1.26 crore cases and 96,000 cases by Supreme Court of India. Model Rules for Video Conferencing have been framed by a 5-Member Committee and circulated for adoption by the High Courts.1500 additional VC licenses procured for use of Courts. Funds released for setting up of 2506 VC cabins and 14,443 additional VC equipment.
(f)      Live Streaming: Live Streaming of Court proceedings has started in Gujarat, Karnataka and Orissa High Court. Draft Live Streaming Rules formulated and circulated to all High Courts and placed in the public domain for comments and suggestions.
 (g)     eFiling: eFiling is aimed at promoting paperless filing and saving time and cost.  The upgraded version 3.0 is being gradually rolled out with advanced features like online submission of Vakalatnama, eSigning, online video recording of oath, online payment, filing of multiple IAs/application, Portfolio Management and bilingual mode etc.
 (h)     eSewa Kendra and eCourt Services: 235 eSewa Kendras have been funded for roll out in High Courts and District Courts to reduce digital divide.  eCourt services have been created to provide real time information on case status, cause list, judgment through 7 platforms like SMS Push and Pull, Email, eCourt Mobile App, Judicial Service Centre and Information Kiosks.
 (i)      Secure, Scalable &Sugamya Website as a Service (S3WAAS): All court websites are being upgraded from the existing system to the S3WAAS platform, which are secure, scalable and accessible. Content published on the website is accessible so that even Divyang users will be able to access the information using assistive technologies.
(j)      Digitization of Records: The eCommittee of the Supreme Court of India had formed a Sub Committee for the formulation of the SOP on Digitization of Records. The SOP has recently been finalized and circulated to the High Courts for their comments.
(k)    Judgment Search Portal:  This portal has been created for convenience of stakeholders in searching judgments easily.
(l)        Information, Education & Communication (IEC): As part of IEC campaign several initiatives have been taken to educate the Judicial Officers, lawyers and public about the facilities available under eCourts Project, such as
(i)      eCommittee Website:  Launched exclusively for the e-Committee and linked to the website of the DoJ for dissemination of information relating to eCourts Project amongst all stakeholders and to enable High Courts to upload their achievements and best practices.
(ii)     Awareness and familiarization of e-filing: Webinars for Bar Council of Tamil Nadu, Goa, Maharashtra and Delhi were held on 14th June, 2020.   Manual and Brochure on eFiling is made available on eFiling Portal.
(iii)    YouTube Channel:  Under the title 'eCourts Services' for video tutorials on   eFiling.  12 help videos in 7 regional languages have been uploaded apart from Hindi and English and circulated for advocates as part of awareness, through eFiling portal help desk and also on social media through eCommittee YouTube channel.
(iv)    eCommittee Training at National and State level: Total 30 training and awareness programmes on the ICT conducted between May 2020 and June 2021 covering nearly 2,34,725 stakeholders including Judges of States, Courts staff  and Advocates. 25 Master Trainers have been trained in each High Court who in turn has already trained 5409 Master Trainers across the country. These, 5409 Master Trainers have in turn imparted training programme on eCourts Services and e-filing in each district of the country for advocates in their regional languages and also identified Master Trainer Advocates.
Various Aspects of eCourts Project Phase-II
eTaal : Total no. of eTransactions done under eCourts Project Phase-II: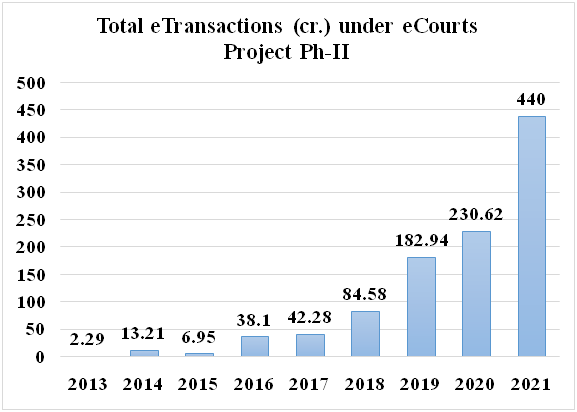 Funds: Out of total allocated funds of Rs. 935 Cr. the total expenditure for Phase-I was Rs. 639.41 Cr, whereas for Phase II, Out of total allocated funds of Rs. 1670 Cr, the total expenditure is Rs. 1610.98 Cr (till 30.09.2021).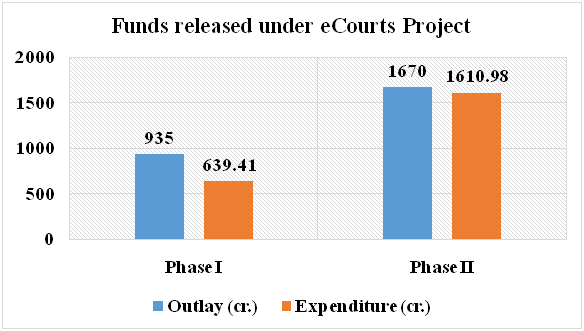 Computerisation of District and Subordinate Courts: A total of 18,735 District & Subordinate Courts are computerised under eCourts Phase-II.
Video Conferencing enabled in Jails and Courts : Total 13,672 District and Subordinate Courts were computerized under the purview of eCourts Phase-I. For eCourts Phase-II,  18,735 District and Subordinate Courts  has been computerized.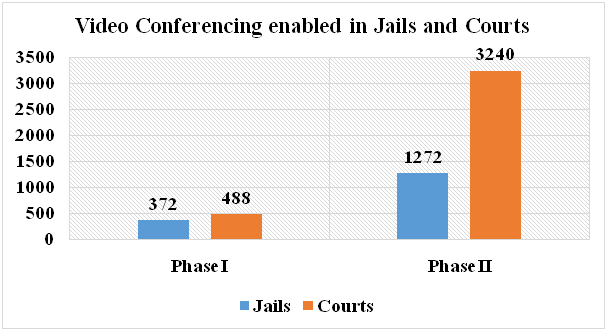 Fine realized in Virtual Courts: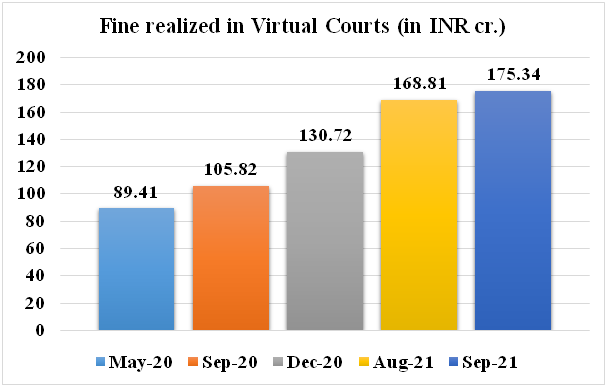 Video Conferencing hearings in High Courts and District & Subordinate Courts: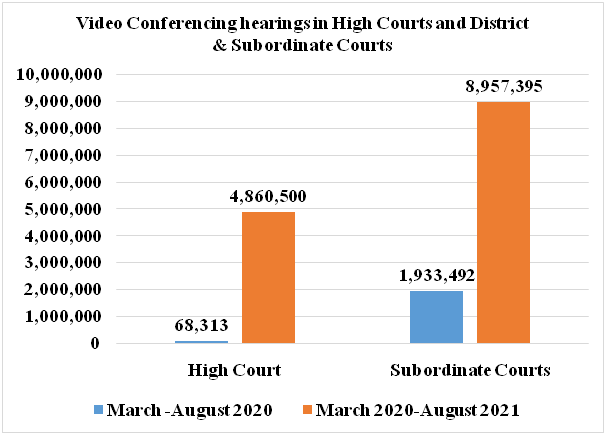 WAN Connectivity: Under WAN project, 2954 sites have been commissioned out of 2992 sites with 10 Mbps to 100 Mbps bandwidth speed (completing 98.7% sites).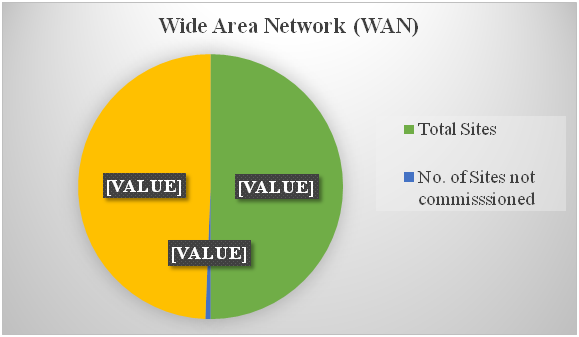 eFiling : Between 01.03.2020 and 21.05.2021, 11,810 cases were filed in High Courts and 90,190 were filed in District & Taluka Courts using eFiling facility.
Justice Clock: In a total of20  High Courts i.e. (Allahabad (Allahabad and Lucknow), Andhra Pradesh, Chhattisgarh, Guwahati (4 benches – Arunachal Pradesh, Mizoram, Nagaland, Assam), Calcutta,  Jharkhand, Meghalaya, Telangana, Manipur, Madhya Pradesh (3 benches), Orissa, Madras, Telangana, Tripura, Kerala, Sikkim, Rajasthan (2 benches), Himachal Pradesh, Uttarakhand, Delhi and Karnataka (2 bench out of 3), 29 Justice Clockshave already installed. One justice clock is also installed at Department of Justice, Jaisalmer House.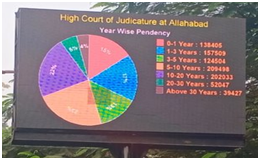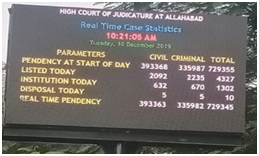 Open APIs: In consonance with National Data Sharing and Accessibility Policy (NDSAP), Open Application Programming Interface (API) to NJDG has been initiated. This will keep track of government litigation  and improve their monitoring and compliance.This facility is being made available to both the Central Government, State Governments and Local bodies.
Divyang Friendly Initiative:
Following parameters have been formulated to determine accessibility of High Court websites:
Access to judgments
Access to cause lists
Access to case status
Contrast/color theme
Text size
Screen reader access
SOP for generating accessible court documents and ePortals being prepared. New website for eCommittee, based on S3WaaS platform, launched in 10 languages. Content published on the website made Divyang friendly using assistive technologies. All High Court websites now have accessible captchas.
*****